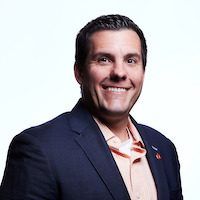 Andy Stone
Andy Stone joined Pure Storage in April 2019 as CTO – Americas where he is responsible for supporting go-to-market and internal, product development activities. Andy works with large, enterprise customers to help identify and deliver solutions to meet their needs, while working with product management to ensure that product roadmaps meet the ever-evolving needs of customers and prospects.
Prior to joining Pure, Andy worked at PwC for three and a half years as US and Global Chief Technology Officer and Global Head of Security Technology and Engineering supporting the Firm's 160 global territories and nearly 300,000 users. Andy worked to implement a number of global technology solutions to improve the overall usability, scalability and security postures of PwC, while improving overall IT services' performance. Some notable, solutions and innovations came in areas such as: secure, borderless networking, Global wireless network upgrade, Global Active Directory redesign and build out, data center consolidation, cloud adoption, secure software development, unified communications and collaboration, and data analytics. Andrew also led efforts to virtualize PwC desktops to improve end-user usability and protect from potential outside attacks and internal data leakage.

Prior to PwC, Andy was the Farmers CISO and Global Head of Security Engineering, Architecture, Technology and Strategy for Zurich Insurance where he was responsible for a global security transformation across 140+ countries, which included modernizing the entire security organization across people, process and technologies.
In his consulting past with Accenture, Andy led the creation of multiple security offerings including Identity and Access Management and Application Security. Andy also led the Power of 3 security alliance between Accenture, Avanade and Microsoft. These were in addition to his work with numerous, Global Fortune 500 companies, where he provided thought leadership and helped design, implement and support a broad set of custom and commercial technology solutions.
Andy holds a BS in Business – Information Systems from Indiana University, Bloomington and an MBA from the University of Southern California. Andy has been presented at numerous conferences and been published on several topics in security and other technologies. Lastly, Andy holds patents in the security space for technologies developed related to identity and access management.