June 14, 2023
Interview with Garry Kasparov: Embracing the Future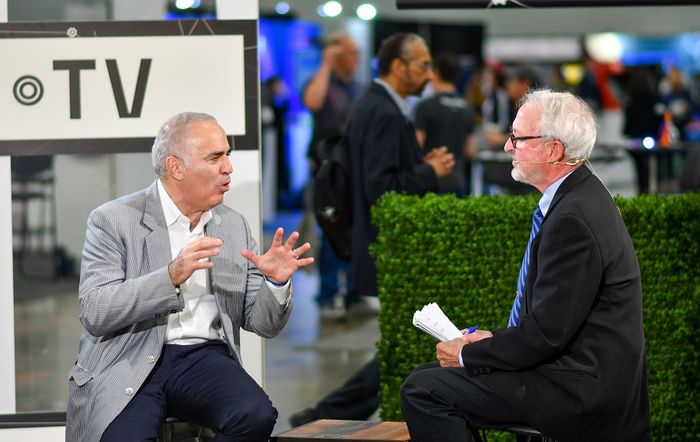 Chuck Martin, Editorial Director at Informa Tech, and Garry Kasparov, World Chess Champion, spoke at the IoT World and The AI Summit Austin last year about the 25th anniversary of the historic match against Deep Blue.
In this session, they discussed the impact of the 1997 match between Garry and Deep Blue, which marked a milestone in demonstrating that machines can prevail in closed systems. They explore the history of technological advancements over the past 25 years, touching upon topics like search engines and the fear of machines taking over.
Garry emphasized the need for humans to maximize the positive effects of technology and use it as a tool for good rather than fearing its potential. He reassures that human involvement and decision-making will continue to play a pivotal role in shaping the future alongside smart machines. Garry also offered his thoughts on the future of artificial intelligence (AI) and how humans can work with machines to create a better future.
Garry highlighted the significance of the 1997 match, where Deep Blue's victory raised questions about the role of humans in decision-making processes and how machines can excel in closed systems.
"In any closed system, game of chairs, golf, or any video game, even Texas Hold'em poker, all closed systems in any closest machines will prevail, eventually"
Garry also acknowledged the historic progress facilitated by machines and highlighted the improvements in human life and society resulting from technological advancements, when he said the following:
"Machines made us stronger, machines made us faster... We live longer, so we found a way to actually maximize positive effects from the machines."
In conclusion, Garry Kasparov offered us some important insights into the future of AI. He reminded us that AI is a powerful tool that can be used for good or for evil. It is up to us to decide how AI will be used. We must be proactive in shaping the future of AI, and we must work together to ensure that AI is used for the benefit of all.
Garry's words are a call to action for all of us. We must not be afraid of AI; instead, we should embrace it and use it to create a better future for ourselves and for generations to come.
If you are interested in joining and witnessing some AI-ncredible personas for this year's edition of Applied Intelligence Live! Austin, sign up now and secure early bird access!