July 24, 2023
Interview: Daniel Kliewe, Head of Research & Development, Haver & Boecker (H&B)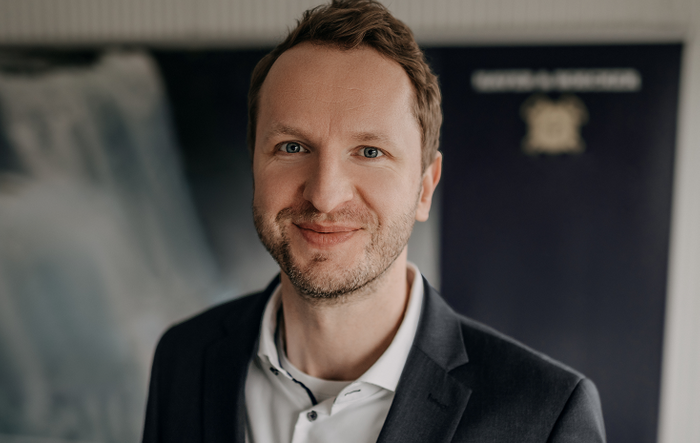 "In the sector of special mechanical engineering there are a few reasons, why AI and IoT is important.
First of all, these new technologies help us to further improve our machines and to fulfil our customer needs. We are now able to implement functionality, that is not possible with classical mechatronic engineering.
Furthermore, IoT is an option to differentiate from our competitors. For example, with our monitoring solution we give our customers the status of the value adding process at their fingertips anytime and anywhere."
Daniel Kliewe is Head of Research & Development at specialist manufacturer of dividual metal wire mesh products and innovative packaging technology Haver & Boecker (H&B). His R&D department covers a variety of topics from mechatronics to AI. And with more than 10 years of experience in innovation and digital transformation, Daniel is responsible for designing H&B's digital transformation journey and leading the company through it.
As a friend of the show, we caught up with him ahead of the 2023 event to pick his brains on the current impact of AI on the manufacturing sector.
How did you get into R&D?
"So briefly I studied mechanical engineering and made a PhD in the area of intelligent technical systems. After that I had a job as Head of Pre-Development at another company.
My role as the Head of Research and Development at H&B was advertised. I had two years of training on the job with my predecessor. Since he retired, I am in charge for the department."
In what ways have you seen technology advanced the manufacturing processes at H&B?
"Modern technology allows us to integrate our machine in CAD directly into the customer's workshop by means of a 3D scan. This is done prior to the manufacturing to ensure the perfect fit of our machines. Thanks to modern technologies, our CNC machines can process all workpieces alone at night. "
What has been the biggest change in how your organization operates over the last three years?
"The way we think about collecting data has changed. A few years ago, data was not in our focus. Not at our own production and not so much in our customers machines. Now we understood that data is the key for us to further improve our production and our machines. With collecting and processing data we can increase the value we provide to our customers."
What breakthrough from the past year are you most excited about?
"I am most excited about our new AI-team. We were able to establish an AI-team in the R&D department, which is focused on using AI-technology to do a lot of good things like solving customers problems (bursting of bags), enhancing the safety aspects of our machines (PSE detection) or making our machines more intelligent (adaption of the machine)."
With that in mind, Generative AI: overhyped or game-changer?
Game-changer. In my opinion companies will not only use it for personalized advertising text or the improvement of automated replies. In R&D we can use it as an "idea generator". For example, chemical companies use AI in product development to pre-filter useful chemical compounds.
Daniel Kliewe joined us at Applied Intelligence Live! Austin 2022 to share his expertises on the supply chain. For 2023, Matthew Domo, CEO & Digital Strategy Expert at Fifth Vantage picks up the baton with the session: Digital Transformation of the Supply Chain: The Role of Sensor Networks in Building Resilient and Agile Logistics Networks.