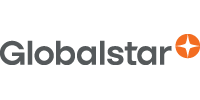 Globalstar
Globalstar helps people connect, communicate, and transmit data in smarter ways.
As a telecom infrastructure provider, we offer reliable satellite and terrestrial connectivity that's simple, fast, secure, and affordable. With our low-earth orbit (LEO) satellite network, we connect and protect assets, transmit key operational data, and save lives —from any location —for consumers, businesses, and government agencies in over 120 countries.
Our terrestrial spectrum, Band 53, offers carriers, cable companies, and system integrators a versatile, fully-licensed channel to improve their customers' wireless connectivity.
In addition to our SPOT GPS messengers that connect people in remote environments, Globalstar offers next-generation IoT hardware and software products that efficiently track and monitor assets, process smart data at the edge with AI-enabled applications, and manage analytics with cloud-based telematics solutions —all of which drive safety, productivity, and profitability.
We transform smart ideas into smarter solutions.
Address
300 Holiday Square Blvd.
Covington
Louisiana
70433
United States