We've secured special pricing at Austin Marriott Downtown, Hilton Austin, and Hilton Garden Inn – Austin Downtown through Convention Housing Partners, the official event hotel provider. You can book, modify or cancel your hotel reservations at any time through this website.
For help with reservations, please reach out directly to Convention Housing Partners*:
Phone number (toll free): 866-303-2930
Phone number (local): 415-813-6088 option 22
Or via email.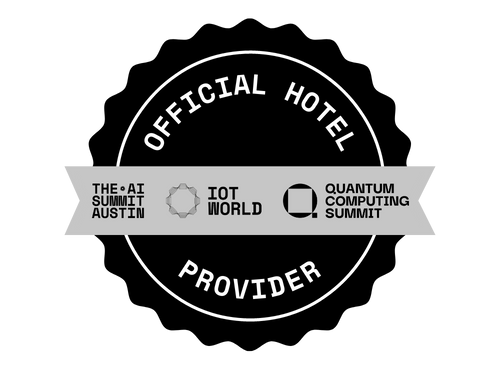 *Disclaimer: Notice Of Unauthorized Housing Providers
Convention Housing Partners (CHP) is the only hotel provider endorsed by IoT World & The AI Summit
As the event draws closer, exhibitors and attendees are from time to time subjected to improper solicitation from unaffiliated hotels or third-party housing agencies. Hotels listed on this website are the sole approved hotels for the event. In our efforts to provide exhibitors and attendees with a quality event, we encourage you to book your housing accommodations using the reservation phone numbers and/or links provided.
Any offers from other hotels and/or housing agencies are not endorsed. Entering into financial agreements with these companies can have costly consequences and are not protected by event management. You may advise us of any unauthorized solicitations.